6-Hour Dubai Desert Dinner Safari with Quad Biking and Sandboarding
Escape the city for a thrilling desert adventure on this afternoon tour from Dubai. Drive through the Dubai Desert in a 4×4, get your adrenaline pumping as you enjoy quad biking, sandboarding, and camel riding in the dunes, and experience Arabic culture with a delicious dinner and dance show at a traditional desert camp.
Dubai Desert Safari with BBQ And 4W Land Cruiser Dune Bashing Experience-Sandboarding
Less than an hour from the city, the Dubai Desert is a natural playground for adventurous travelers. On this tour, enjoy a thrilling dune-bashing safari, zip down the dunes on a sandboard, and try camel riding, then watch the spectacular sunset over the desert. Finally, tuck into a delicious BBQ buffet dinner and enjoy live entertainment including belly dancing and a Tanoura dance show.
Dubai Royal Adventure Desert Safari Evening Tour
A desert expedition is a Dubai must-do, and this experience is a step up from many similar tours, with a larger camp, more activities, and table service at dinner. Journey into the desert by 4×4, enjoy a dune bash, and visit the Royal Adventure camp for activities, dinner, and entertainment. Ride a camel, go sand boarding, dress in Arabic robes, and more; and enjoy dinner served at your table in a reserved area.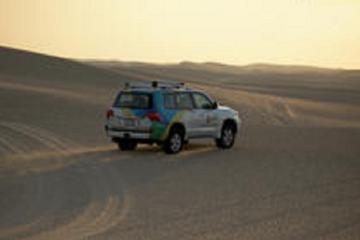 Morning Desert safari with Arabic breakfast7 Reviews
Kick up clouds of sand on a heart-thumping dune bash on this 4-hour trip from Dubai. In the cool of morning, visit an area of orange dunes by 4×4, watch your driver-guide deflate the tire pressures, and then hit the sandy inclines. Then, with your driver at the wheel, ascend the dunes and thrill as the 4×4 slips and slides down the shifting sands. Stop for photos and afterward, refuel with Arabic coffee and dates. Finish with a camel ride or upgrade to enjoy an exciting quad bike session instead.
Exciting Morning Desert Sports in Dubai
Start a day in Dubai with some action-packed sporty fun on this 4-hour morning desert adventure. Your experience starts as you head into the desert and board a Land Cruiser 4×4 for a pulsating dune bash. Hold tight as an expert driver takes you racing up and down towering red dunes, and then continue with a 20-minute quad ride. Don a helmet, rev the engine, and thrill as you zoom across the sands. Refuel with complimentary water and snacks, and return to Dubai in time for an afternoon of relaxation.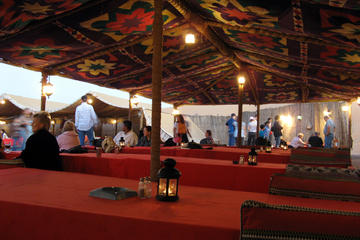 Bedouin Style Desert Camp Safari from Dubai
Swap the bustle of Dubai for the fun of the desert on this 6-hour excursion. Take an exhilarating 4×4 drive up and down the beautiful desert dunes; stop for photos as the sun sets over the sands; and then continue to a beautiful, Bedouin-style camp. Enjoy an Arabian welcome of coffee and dates, and experience authentic Emirati culture with a camel ride, henna tattoo and other activities. Lastly, savor a delectable buffet and barbecue accompanied by exciting live entertainments including a belly dancing show, 'tanoura' spinning dances and music.
Desert Safari with BBQ Dinner from Dubai
Enjoy the Dubai desert and a starlit dinner on this 6-hour experience from Dubai. Ride over the dunes by deluxe 4×4 and visit a Bedouin-style camp in the sands. After Arabian tea and coffee, enjoy a range of activities, including a camel ride, henna art, sand boarding, and more. Cap the evening with a 3-course barbecue and buffet dinner complemented by a belly dancing show. Dubai hotel pickup and drop-off included.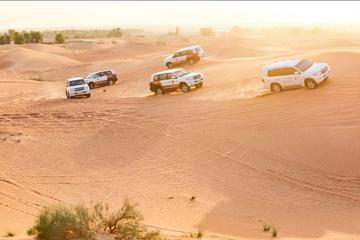 Dubai Desert Safari with Burj Khalifa – Ticket Only with No transfer to Burj Khalifa –
Pack two popular Dubai activities into a day with no worries about having to secure last-minute tickets while you're in the city. Ideal for those short on time in Dubai, this combo starts with entry to the Burj Khalifa's 124th floor to soak in the bird's-eye views. Then, return to your hotel independently, and after 4×4 pickup, enjoy a full desert experience complete with dune bashing, dinner, entertainment, and more.
Dubai Desert Morning Safari
Unleash your inner adrenaline junkie with this 4-hour desert dune bash adventure from Dubai. Leave the city skyscrapers behind and make the 45-minute journey to the Al Hibab region of desert, known for its red dunes. Then, aboard a comfortable 4×4 with a professional driver at the wheel, hold tight as you scale, slip and slide up and down the dunes — it's a rollercoaster ride! Enjoy the stark beauty of the desert as you skid and slip, and if you wish, try your hand at sandboarding down the soft slopes.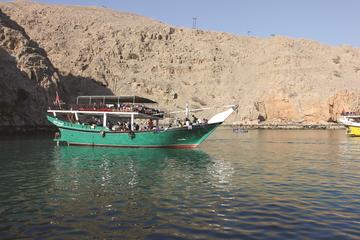 Mussandam Sea Safari From Dubai
Drink in the beauty of Oman's awe-inspiring Musandam Peninsula on a scenic cruise day trip from Dubai. Venture east through the rocky Hajar Mountains, cross the border into Oman and set sail on an Arabian wooden 'dhow' along Musandam's rugged coast, one of the world's most beautiful. Glide by rocky coves, barren peaks and caves, and discover steep fjord-like bays. Sunbathe, look for dolphins, swim and snorkel in translucent waters, and enjoy a delicious buffet lunch on deck before your road trip back to Dubai.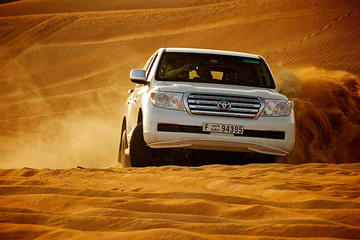 Ultimate Morning Desert Safari from Dubai
Climb aboard a 4×4 vehicle and head out into the sand dunes outside Dubai for a half-day safari adventure. Spend 20 minutes dune bashing, then stop at a camel farm and refuel with snacks and beverages. Next up is sandboarding, after which you will be dropped back at your Dubai hotel.
Afternoon Dubai 4×4 Desert Safari With Transfer
Explore the vast red sand desert outside of Dubai in a 4×4 vehicle on this 5-hour tour. With your local guide and driver, experience the adrenaline-pumping activity called 'dune bashing' as you take in the otherworldly desert atmosphere. At a local camel farm, stop to take a ride on one of the friendly dromedaries. Eat a traditional barbecue dinner under the star-filled Arabian sky while enjoying entertainment from folk dancers and belly dancers. Round-trip transportation from Dubai hotels is included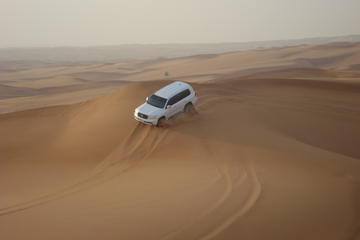 Bedouin Morning Safari From Dubai
Spend three hours venturing into the dunes outside of Dubai on this epic morning safari. You'll visit a typical Bedouin farm and bash the dunes on a thrilling 4WD ride. Ride a camel, sand board and make the most of your desert adventure.This all-inclusive tour showcases the best of desert life and is the perfect way to spend a day outside of the city.
Morning Safari with Evening Rustar Dinner Cruise From Dubai
Pack two of Dubai's must-do activities into one day on a great-value, morning desert trip and evening dinner cruise tour. In the morning, ride a 4×4 into the desert wilds and enjoy an adrenaline-pumping dune bash, sand boarding session and camel ride. After the afternoon free in Dubai, enjoy an Arabian 'dhow' boat dinner cruise on the elegant Rustar floating restaurant. As you sail by the illuminated sights of Dubai Creek, savor a sumptuous buffet accompanied by live music and traditional dance shows. Both experiences include hotel pickup and drop-off.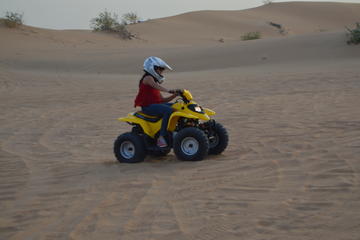 Sultans of Sands Desert Quad Bike Riding From Dubai
Get ready to rev! Take an adrenaline-pumping quad bike ride on this 3-hour desert adventure from Dubai. After hotel pickup, travel to the edges of the desert and pull up at the quad bike station. Don a helmet, hop aboard a rugged 4-wheeler, get instructions and open the throttle for an exciting 30-minute ride. Follow your guide as you rumble over the sands, speed along dusty trails and tackle high and low dunes, all as you enjoy the beautiful desert setting.
Desert Safari PLUS Luxury Yacht Sight Seeing Cruise with Boutique Restaurant Dinner – Best Deal in Dubai
Enjoy a Day and a Half of Dubai Activities!Absolute Best Deal in Dubai!Luxury Yacht CruiseDinner at a Boutique Marina RestaurantDesert Safari with 4X4 (SUV) pickupDune BashingBBQ BuffetLive Entertainment ShowsExcellent Service+ More!Show us a Better Deal!Get picked up from your hotel in a 4×4 (SUV). Enjoy Dune bashing in the desert, Live entertainment shows, BBQ buffet and more! Enjoy excellent cuisine at a boutique restaurant followed by a scenic cruise through the beautiful Dubai Marina on a Yacht.Avoid the feeling of being lost in the shuffle, or being herded around like cattle. Be a star and get treated like one! This is not a large Dhow Cruise or event boat with 75 – 100 people, our Luxury Yacht Cruises are limited to only 10 people. For bigger private groups, we can accommodate more guests as needed.
Morning Desert Safari with Quad Bike and Camel Ride
Morning Desert Safari with Quad Bike and Camel Ride. This package is specially designed for those who want to get up early and start activity in the morning. Dubai morning Desert Safari is most popular among tourists as well as residents.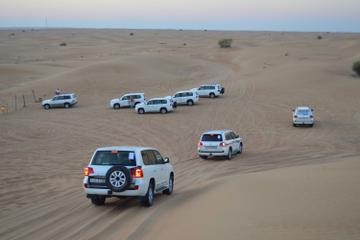 Desert Safari From Dubai: Including Buffet Dinner and Live Entertainment
Experience the evocative sights, sounds and traditions of the desert on a 6-hour tour from Dubai. Hop inside an air-conditioned 4×4 and zoom deep into the desert outside the city. Kick-start your adventures with an exhilarating ride through the towering red-sand dunes. Capture a brilliant desert sunset on camera, and visit a welcoming Bedouin-style desert camp for an Arabic coffee, camel ride and dinner. As the stars light up above, dig into a sizzling barbecue and buffet dinner, accompanied by complimentary sodas and a scintillating belly-dancing show.